ALIGNED BY DESIGN
ORDER The BOOK SET!  $67.00 now $50.00

 
Aligned by Design is the latest literary installment created to keep you in your sweet-spot. Radiate the Brain and Change the Game was created to help you understand your greatness, your differences, and your uniqueness but this book-set will help you stay in that space, so that you can focus and flourish in your gift. The DVD (The conversation) and the CD (The Thought Process) supports the understanding you need to remain in flow to your natural gifts.
Charles believes that simplicity is always the easiest way to convey a message, so this book is straight no chaser. Let's face it, everyone is purposed with something special, why settle for the common lifestyle of daily stress when you can secure a lifetime of uncommon freedom! You were meant to be Aligned by Design! Identify it, plan it, work on it and manifest it!

------------------------------------------------------------------------------------------
ALIGNED BY DESIGN
 Just the Book! 

$20.00

 

Aligned by Design - $20.00
Book
RADIATE THE BRAIN & CHANGE THE GAME
BOOK - AUDIO PROGRAM - WORKBOOK
Radiate The Brain & Change The Game is designed to help you identify whats preventing you from having a dynamic life! It will
help you begin the process to transition into a stronger, smarter and wiser you. There are 21 chapter in total, but 15 chapters with exercises, questions, examples and strategies to transform you into the person you were meant to be.
This book-set is for companies and individuals. Companies can apply new techniques on how to reduce turnover and hire the right applicant and get a better return on their time and investment. There is a step by step process on how your company can assess each applicant to determine how they fit into your organizations big picture.  That's one of the best ways to reduce constant turnover. When people are placed in an area of their greatest strength they work harder and they stay longer!
Individuals will have the opportunity to understand how they size up to their competition, but more importantly how they size up to themselves. The worst thing an individual can do is invest time and money into a career path or a business path only to find that it's not aligned with their genuine interest, skills, or talents.

The audio program compliments the book by giving  specific focus on the pros and cons of people, places, and things that we encounter daily. Identify and rectify patterns that keep you trapped. We'll give you the workbook for free when you purchase the entire set!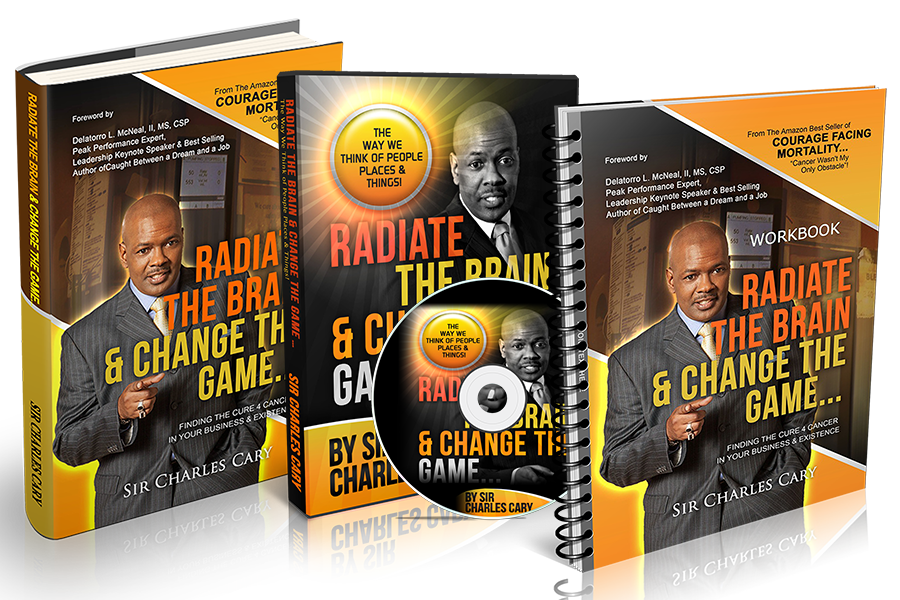 Radiate The Brain & Change The Game - BOOK-SET $60.00 now $50.00
(Book, Audio, and workbook)
(free workbook w/set only while supplies last)
----------------------------------------------------------------------------------
The Cure 4 Your Business & Existence!
Double Audio Disc & DVD Bonus DISC - SET
Sir Charles presents his live presentation from "The Cure Tour" at Bally's, Live in Las Vegas!  Double Audio Disc Set with over Three Hours of content! After working with  Dr. Willie Jolley (A Setback is A Set Up For A Comeback) and Delatorro McNeal, II (The Keynote - Reality Show) Sir Charles has brought everything back full circle.  
Audio CD Includes: "The 3 P's of Success", "The Cure 4 Your Business & Existence" and "Activities that propel you"
BONUS DVD Includes:
"Live in Las Vegas", ION-TV Interview w/ Metro Magazine's Bonnie McDaniel and "Willie Jolley's Change The World Summit"
Sir Charles on "The Cure Tour" empowering and inspiring audiences across the country to reach their true potential and live their dreams!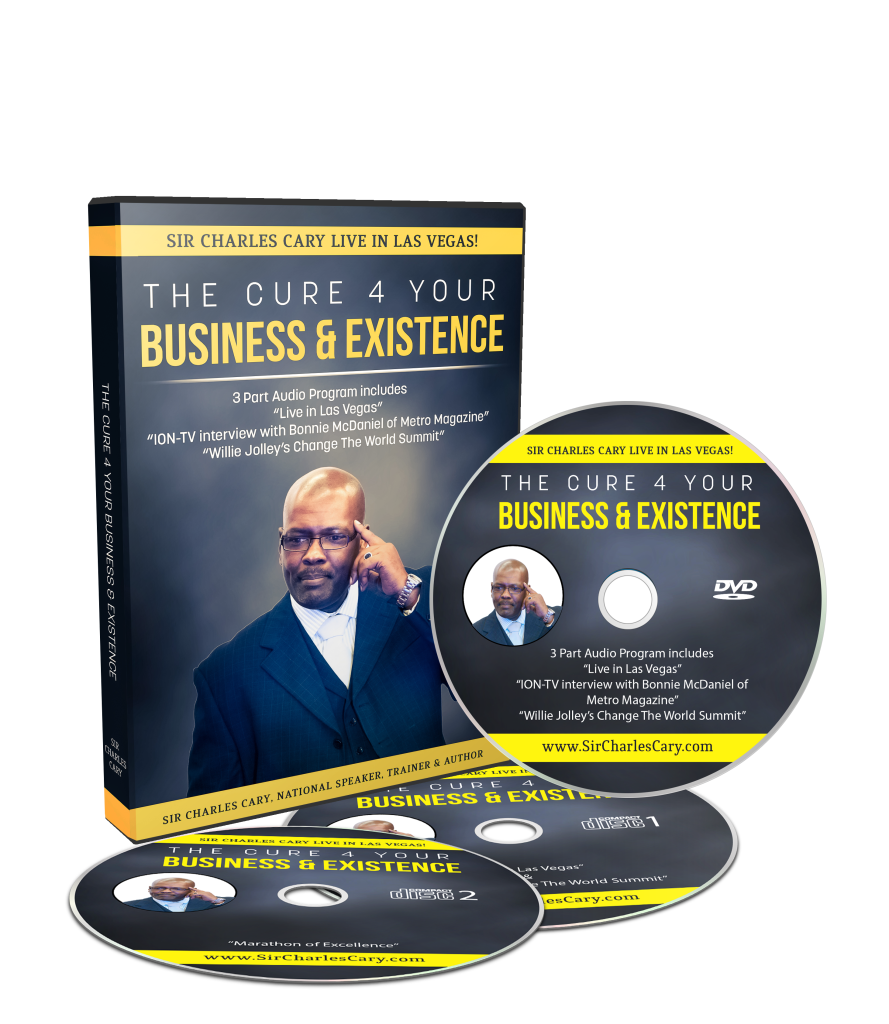 The Cure 4 Your Business & Existence - $97.00 now $40.00
3 Disc Set 
(2 Audio Disc & 1 DVD Bonus Disc)

JUST RELEASED!!

RADIATE THE BRAIN & CHANGE THE GAME

E-BOOK

$10.00
CLICK BELOW