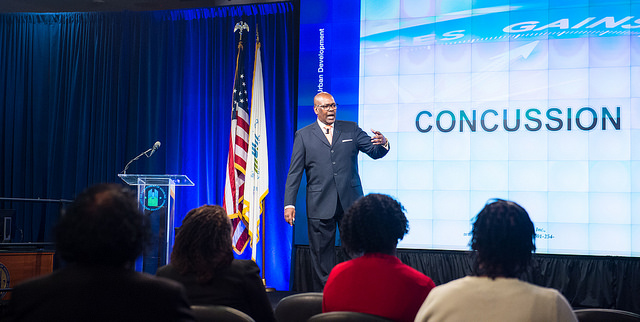 Charles Cary affectionately known as Sir Charles is the only Peak Performance Strategist in the USA that uses the mantra of Radiate their Brains & Inspire Team Gain to show people how to turn periods of uncertainty into life / career defining moments. Keynotes, trainings, and breakouts are his main areas of focus. Call us if your organization needs a shift in morale, productivity or just realigning with organizational values. 
Understanding the importance of performance values, Charles places emphasis on defining and executing clear processes to meeting objectives. He creates an opportunity for clients (NIH-NIDA, HUD (Housing & Urban Development), Amgen, Staples, The Leukemia & Lymphoma Society, The Federal Reserve Banks of Atlanta, Boston, Chicago, and Detroit. His appearances on ION TV, CBS, NBC, ABC, WHUR Radio, The Keynote: Reality Show have been a testament to his hard work and determination to share a process in personal / professional that works!
Charles has not only transformed his own life from environmental and life threatening challenges (2-time Cancer survivor and having won the battle over substance abuse), but he's also helped transition the lives of many others and proven that in spite of it all you can have success! As an Amazon Best Seller and with vast experience in training and keynoting he has been viewed as a combination of Wayne Dyer meets Les Brown and client's love it. 
CERTIFICATIONS / ASSOCIATIONS:  Homeland Security, George Mason University and The Service Quality Institute; In addition he's also been a member of The National Speakers Association and Toastmasters.