Transformational  Leadership

There are several options for becoming equipped and for equipping your staff. We offer transformational leadership on various platforms (trainings, keynotes, workshops, or coaching) and interwoven through various topics. One of the best ways to strengthen your internal leadership and your support team is by presenting transparent and transformational change on how it can be done!
Choose professional / personal development in leadership, customer service, or public speaking. Today technology and society moves at an  extremely rapid pace and in order to use your best skills you have to discover what they really are.  We offer you various development options (live presentations, webinars, books, audios, and membership portals) In today's  fast paced environment you need skills that are simply interchangeable.
Our Promise 
When you enhance your company message, motto or mission with us, you get proven results. We'll strengthen your internal leadership and your support team by presenting transparent and transformational change on how it can be done! Learning that it's a matter of choice, focus and determination! We make the transition simplistic and obtaining goals realistic!
We will help you:
Tell your story – Identify your strengths / gifts
Live your story – Talk the talk and walk it
Be your story – Transform into your genuine authenticity
WE DON'T GIVE UP ON YOU, UNLESS YOU DO!
THE CURE TOUR CONTINUES!
2 SPECIAL EVENTS IN WASHINGTON, DC
Event 1 -

HEALTH & WELLNESS EMPOWERMENT



Event 2 -

HELP US HELP YOU2015
COME IN 4 FREE AND

 LEAVE WEALTHY!
JUNE 6, 2015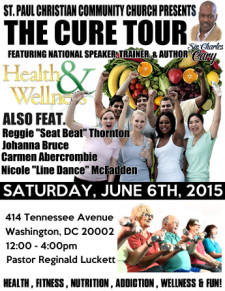 JUNE 13, 2015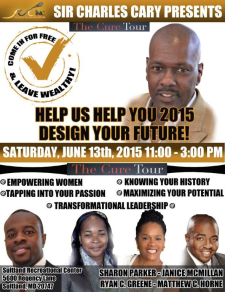 As a Transformational Leadership Professional Charles places emphasis on defining and executing clear processes to meeting objectives. He creates an opportunity for you to see, hear, and explore what actually works and what makes the difference in creating a winning team and a winning environment.
Charles has done trainings, breakouts, seminars, and keynotes for organizations, agencies and companies with an interest in training, customer service, and presentation skills. As a 2-time Cancer survivor and having won the battle over substance abuse, Charles has successfully conquered these major life challenges and with The Cure Tour he can bring this experience to you! His passionate speaking style is totally engaging and motivating to his audience and his topics are truly heartfelt!
We're excited about introducing new ways for us to work with you. It's called The Cure  Membership Portal! We want your experience to be educational, engaging and personal to your interest and your growth.
This portal offers  access to books, audios, videos, blogs, coaching and interviews to help you in your quest! Each month we'll add a Cure Member Special Update (video, audio, interview, messages or invites).  All members get discounts to live events and special considerations for promotions.
Choose your level of interest at the tab labeled 

Membership Plan

 and begin!
Cure 1 Member: basic updates, hints, tips, insights, videos, audios, blogs, interviews, pdf's and downloads, 1 personal coaching call per month, and more!
Cure 2 Member: updates, hints, tips, insights, videos, audios, blogs, downloads, books, CD's, DVD's,  3 thirty minute personal coaching calls and more!
Personal Coaching also available: Fill out the form on the Contact page